October 15, 2018
PAST, PRESENT, FUTURE:

Argan Oil and Us
Moroccanoil Co-Founder Carmen Tal had her first brush with argan oil somewhere unexpected: on the other side of the world, in a salon she came across while traveling.
Enticed by the hairdresser's promises of instantly revived, healthier hair, Carmen took a gamble on the unfamiliar treatment. You can guess what comes next. Amazed by her hair's transformation, she set about finding a way to bring the treatment's then under-the-radar star ingredient—argan oil—to the US. And thus, Moroccanoil was born.
We've come a long way since that moment, growing from a company that offers a single hair treatment to one with a full line of hair and body products, every last one of which is infused with argan oil.
And for good reason: it works.
WHAT IS ARGAN, ANYWAY?
While it's only in the decade since we introduced argan oil-infused products to the world that the ingredient has started appearing in beauty products everywhere, it has roots that stretch back centuries. Made from the fruit of the argan tree, the oil has been used for centuries to do everything from soothe dry skin to add flavor to couscous.
What makes this "liquid gold" so valuable is its high concentration of antioxidants, tocopherols (Vitamin E), and essential fatty acids. By infusing argan oil into everything from hand cream and shampoo to our signature Moroccanoil Treatment, we were able to create a delivery system for these nourishing, reparative components that is as luxurious as it is easy.
"What I love about argan oil-infused hair products," says Moroccanoil Artistic Director Kevin Hughes, "is that they let you do more than just shampoo, set and style. You're actually caring for your hair—infusing it with ingredients that make it more manageable, decreasing frizz and increasing strength." Read: Those long, glossy locks you've always wanted? They might actually be in reach.
While finding a way to infuse argan oil into other products was the innovation that originally defined our brand, it's worth noting that the oil in its purest form is still a versatile beauty product in its own right. "Apply a few drops of Pure Argan Oil directly to your skin after cleansing—both body and face," Hughes confirms. "Massage it through your hair, put your hair in a bun or braid, then let it absorb overnight. Put it on your cuticles and hands to keep them supple and youthful. You can even use it for shaving," he adds. Just don't cook with it—culinary argan oil is processed differently. (Though we won't rule out creating our own eventually. Never say never.)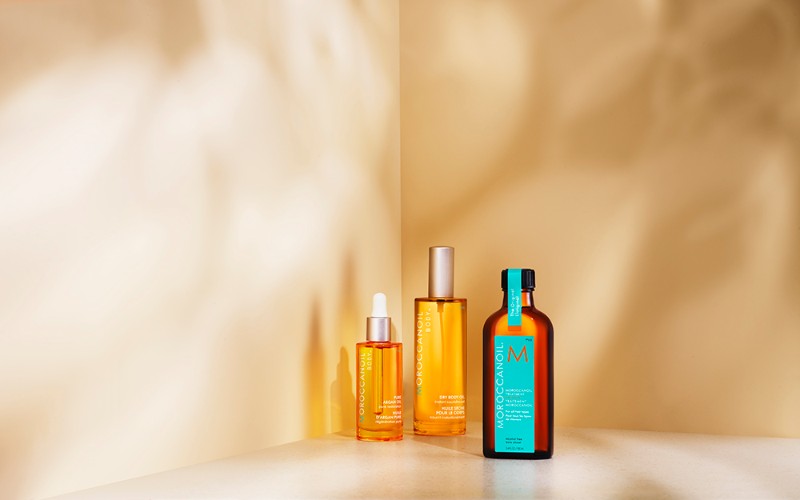 THE LATEST DEVELOPMENT
The funny thing about finding something that really works is that you start wondering: why change it? After all, we didn't commit to argan oil because we thought it would be easy to market or that we could move on to another "miracle" ingredient when it became convenient. We committed to it because as far as we're concerned, it is the miracle ingredient.
With that in mind, we set out in search of a way to further enhance the already astounding capabilities of argan oil. The result? Our ArganID™ technology, which can be found in both our Color Care Collection and Color Depositing Masks. 
ArganID is a breakthrough micro-encapsulated argan oil delivery system that specifically targets and repairs damaged hair. It has two functions: first, to deliver the argan oil into the hair's cortex, and second, to restore and repair the hair follicle from the inside out using microparticles.
Those positively charged micro particles are attracted to the negatively charged hair fiber, infusing a microcapsule—that has the unique ability to carry 99.6% of argan oil—deep inside the hair's cortex. In simpler terms, it simply enables the good stuff to nourish parts of your hair it couldn't reach before.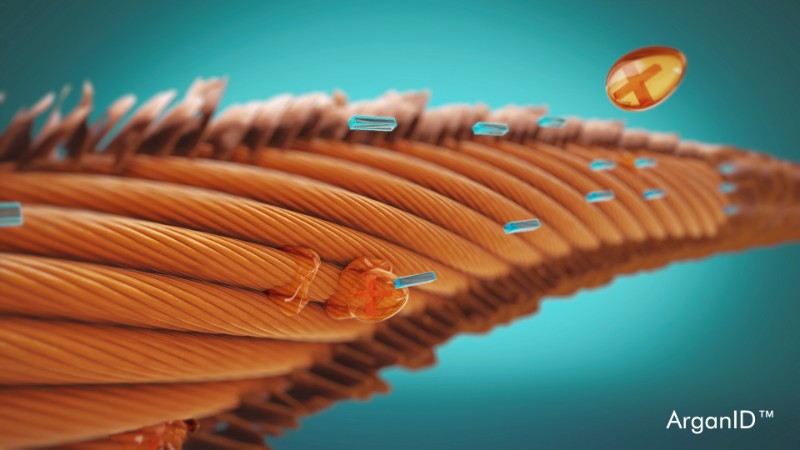 MOVING FORWARD
Whether it was discovering a way to infuse argan oil into beauty products over a decade ago or, more recently, enhancing argan oil's ability to penetrate hair, finding ways to innovate with quality ingredients is what we've always done and what we'll continue to do. As always, we can't wait for you to experience what's next.