February 11, 2019
How to: 2 BAFTA Styles We Loved
It's true: British accents make everything better. Award shows are no exception, which is why we were fully tuned in for last night's British Academy of Film and Television Arts—a.ka. BAFTA—Awards. And while the gowns were stunning and the makeup had us falling down a YouTube tutorial spiral until the wee small hours of the morning, we were mainly there for one thing: the hair. Ahead, two of our favorite looks (and the steps and products you need to pull them off).
Claire Foy's Chic Updo
When it comes to updos, it's easy to accidentally take things too far. An inch too high and your top knot is over the top. One too many loose strands and your looks is more "stepping out of the office" than "stepping onto the red carpet". A bit too sleek, and you overstep chic. However, Claire Foy—who you almost definitely know from The Crown and was nominated for Best Supporting Actress for her role in First Man—really nailed it with this look. This style is elegant without being the least bit fussy or uptight. It's effortless and unpretentious without taking even a tiny slip toward sloppy. It is, quite simply, perfect.
1. To create the perfect foundation for styling, prep wet hair by applying 1-2 pumps of Moroccanoil Treatment from mid-lengths to ends (or Moroccanoil Treatment Light for fine hair).
2. Liberally spritz with Perfect Defense to protect the hair ahead of heat styling, blow-dry with the Ceramic 25 mm Round Brush.
3. To build texture in the dry hair, apply Dry Texture Spray.
4. Use a medium barrel curling iron to put a bend in the hair.
5. Pull the hair back and pin just above the occipital bone, achieving a half-up, half-down style. Take v-shaped pins to refine and define the shape.
6. To separate the loose hair and give added texture, warm a small amount of Molding Cream between the fingers and work through the ends.
7. To finish, hold the look in place with Luminous Hairspray Extra Strong.
Yalitza Aparicio's Long Locks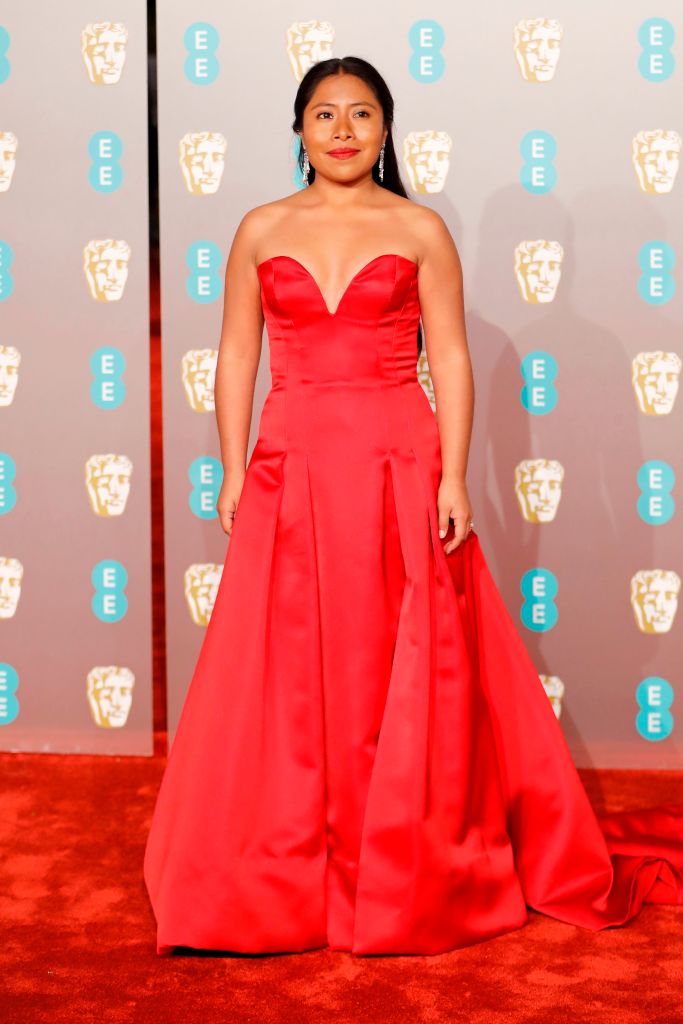 If you haven't fallen in love with Roma, the Netflix sensation, yet, you obviously haven't seen it. The film took home awards for Best Film, Best Director, Best Film not in the English Language and Best Cinematography at the BAFTAs, and earned three additional nominations. Though would have preferred to have seen a Best Actress nod for the film's star Yalitza Aparicio among them, we settled for giving her red carpet look a standing ovation. Her half-up half-down style was the perfect complement to her dazzling red strapless gown (designed by Alberta Ferreti).
1. To prep long hair for this look, and to defend against the wet weather, wash hair using Moroccanoil Extra Volume Shampoo & Conditioner. Towel dry, and apply 1-2 pumps of Moroccanoil Treatment (or Moroccanoil Treatment Light for fine hair) to provide the perfect foundation for styling.
2. Distribute a golf-ball sized amount of Volumizing Mousse to the midsection and ends; providing texture and hold for the waves without weighing hair down.
3. Apply Root Boost to the roots for lift and hold, and blow-dry using the Moroccanoil 45mm Ceramic Round Brush.
4. Curl the hair using a large-barrel curling iron, sectioning the hair and spritzing with Luminous Hairspray Medium before curling and pinning in place for 20 seconds to allow it to cool.
5. Remove pins and brush out the hair using Moroccanoil Ceramic Paddle Brush.
6. Take a horizontal section of hair above each ear and pull back to secure in place at the back of the head with your chosen hair slide.
7. Finish the look with a generous veil of Glimmer Shine to enhance the healthy appearance of the hair.