February 1, 2019
Puppy Bowl XV:

Meet the Cute Contestants
It's that time of year again. Come Sunday, we'll be cozying up on the couch, turning on the television and…waiting for dozens of dogs to take the field in Puppy Bowl XV. On February 3rd, #TeamRuff will compete against #TeamFluff for the " Lombarky Trophy"—and we are here for it. The second annual Dog Bowl, which gives adult pets a chance to take the spotlight, will air one day earlier.
This year, we're even more invested than usual. We're thrilled to share that seven adorable pups from one of our favorite dog rescue organizations—The Sato Project—are on the roster. The Sato Project is dedicated to rescuing the abused and abandoned dogs of Puerto Rico (often called " satos" by locals). Their efforts have taken on a new urgency since Hurricane Maria devastated the island in September 2017.
The Puppy Bowl and complimenting Dog Bowl aim to bring awareness to the millions of dogs currently living in shelters, awaiting a " furever" home. While all the satos pictured below have already been adopted, there are so many dogs just like them who are still waiting for a family to call their own . If you're considering adding a pet to your family, keep an eye on The Sato Project's adoption page—or use a tool like Petfinder to find a dog or cat waiting at another rescue organization.
Read on for the stories of the superstar satos who will be capturing hearts around the world during this weekend's big games, as told by The Sato Project. Trust us: you'll fall in love over and over again.
Puppy Bowl XV airs Sunday, February 3rd at 3 p.m. ET on Animal Planet. Dog Bowl II will air on Animal Planet on Saturday, February 2nd at 8 p.m. ET.
Bee was rescued with 13 family members in Ceiba, an already underserved municipality in Puerto Rico also facing a massive stray overpopulation problem. Many well-meaning citizens have feeding routes and care for the local " satos." They reached out to The Sato Project for help, and we could not say no. When we showed up, Bee's siblings were mostly wary of us, but Bee was a confident pup and came right up, as if to say, "Please rescue me!" They were suffering from severe mange, but soon their gorgeous golden coats grew back.
Bella and Harry were part of a litter we dubbed "The Royals" because they were rescued the weekend of the British Royal Wedding of Harry and Meghan. (Bella was originally named Kate, but she turned out to be more of a Bella.) When the elderly woman who was caring for them sadly passed, her landlord threatened to kill the entire litter! She must have taught these babies to be strong, though, because they were spunky from day one. (After all, two made the Puppy Bowl casting cut). They then starred in the real-life wedding of The Dogist CEO Kate Speer in Vermont; bridesmaids swapped bouquets for puppies.
Bill was rescued on Dead Dog Beach as a newborn. Dead Dog Beach is where The Sato Project first began rescuing dogs. It's a dumping ground for unwanted pets, many of them pregnant like Luna, Bill's mom, whom we spotted hiding under an overturned canoe after giving birth. Bill and his littermates would not likely have survived long had we not found them. Luna was a great mom and allowed us to help care for her babies before they were ready for families of their own.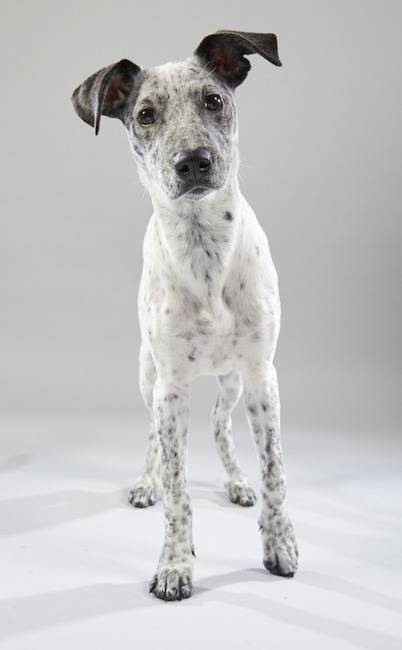 Bugsy had a tragic start to life. Her mother was hit and killed by a driver, leaving three one-week-old puppies orphaned. Her brothers sadly were not strong enough to survive, but Bugsy had the heart of a lion in a 3 lb. body! She was fostered by The Sato Project's founder Chrissy Beckles, who fattened her up and taught her how to skateboard, to boot. There's no stopping this pup.
Delta's mom Dorothy was dumped heavily pregnant in an abandoned house in the mountains of Yabucoa, Puerto Rico. Kind neighbors left food out, but when one cruel individual put poison in their bowls, we were called to step in and save the dogs that survived. Dorothy (who looked like Toto in the Wizard of Oz) proudly led us to her 6 newborns as soon as we showed up to rescue the little family.
Captain Will was hit by a car and left to die on the side of the road.  He was saved by two vet techs at one of our partner clinics. Will had a broken pelvis, severe skin lacerations from possible being dragged, and he had to lose his right eye. But we refused to give up on him and our community rallied around trying to save him. Will kept fighting for his life and so did we. Now we are so proud that he gets to stand healthy and proud in Saturday's Dog Bowl in front of millions of viewers, representing all of the love, hope, and strength of The Sato Project community.