December 4, 2019
Holiday Gift Guide 2019: Something for Everyone
It's that time again! We're decking the halls, trimming the tree, making a list, checking it twice…and then scrambling to read every last holiday gift guide we can get our hands on. Despite the fact that you know it's coming and have a year to prepare, there's no doubt about it: gifting is hard. That why we decided to do our part by coming up with perfect gifts for a few of those people all of us know. Happy Holidays!
For Your Mom
As much as we all love our moms, they're somehow difficult to shop for. After all, how are you supposed to say "thanks for the unconditional love, endless understanding, and answering all 8,000 of my questions about how to become an adult" with a single gift? Spoiler alert: It's impossible. But fortunately, with moms, it truly is the thought that counts. While it's likely that she has a skincare routine for her face down to an art, help her start one for her body with Body Polishing Scrub and Night Body Serum. The former gently buffs away dead skin cells, clearing the way for the high-performing active ingredients in the latter to do their smoothing, firming work.
For the Guys
Beauty might not be the first category that comes to mind when you're shopping for a man—which is exactly why it's a good place to start. Isn't the point of gifting to treat someone to something they probably wouldn't buy themselves? Pure Argan Oil, for instance, is the perfect combination of luxurious and multitasking. It works as a beard oil, a body moisturizer, or as an easy way to soothe dry cuticles (a truly gender-less problem). Another thought? If your husband, boyfriend, or best guy friend usually opts for the same old $30 haircut, get them a gift card for a proper cut with a trained barber. Pair with a styling product like Texture Clay, then advise them to bring it to their appointment so that the barber can show them how to use it. Add a hot towel shave for bonus points!
For Your Favorite Introvert
You know that friend who will readily admit to preferring Friday nights on the couch? First of all, good for her. (And depending on the weather, same.) Second, knowing this about someone makes gifting remarkably easy—it only takes a few things to pull together the perfect "Night In" kit. Pick up a copy of your favorite book and a quality bar of chocolate, then pair with a beauty product that feels a little more like a project. For us, that's a hair mask. Though you only have to leave ours on for 5-7 minutes to see the effects, you could also (theoretically, of course) leave it in while you binge watch the entire new season of The Marvelous Mrs. Maisel. Me-time and silky soft strands? Sign us up.
For Your Sister (or Best Friend)
Why is it that we often struggle the most with finding gifts for the people we're closest to? (See "For Your Mom", above.) There's admittedly more pressure to come up with the perfect gift when your practically perfect person is involved. If you're letting the pressure build, try a mental role reversal. Could you ever not love a gift from someone you love? No. So, go ahead and scrap your plans for that elaborate ten-year scrapbook you're definitely not going to have time to put together (we have cookies to bake, people!) and spring for something simple but thoughtful. Dry Body Oil, Shower Milk, and Body Butter are all the kind of ultra-luxe body care products anyone would love using, but might not already have on-hand. Pair with something else that feels equally lovely, like a soft, oversized travel wrap or a pair of cashmere socks. (Trust us. They are the luxury item everyone needs but few people think to shop for.)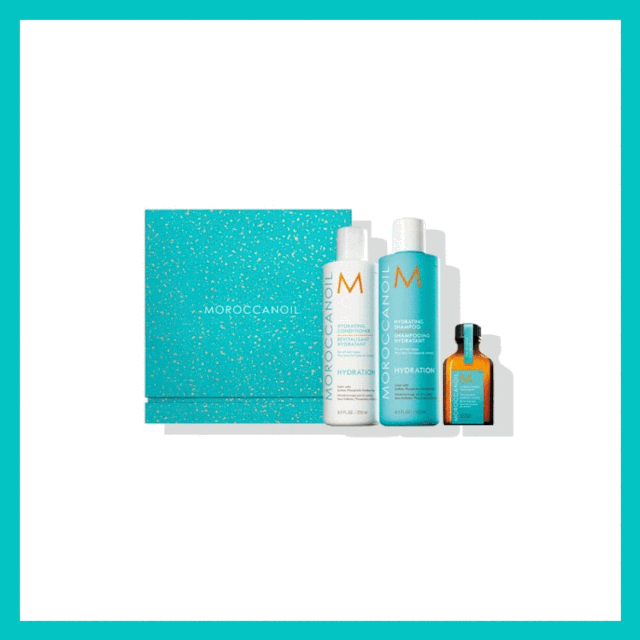 For Your Mother-in-Law
This category is admittedly a tough one. We'll open by acknowledging that you may or may not feel comfortable gifting your MIL beauty products. However, this holiday gift guide is, by its nature, beauty product-heavy, so we're going to assume you're here for a reason and recommend our From All Angles holiday sets. Each one features a best-selling Shampoo and Conditioner pair in addition to a travel-sized styling product. They come in three varieties—Repair, Hydrate, and Volume—making it easy to pick one that suits her needs. (Pro Tip: Go with Hydrate if you're not sure. Everyone can use a little extra moisture this time of year.) The chic gold-flecked packaging makes the set feel appropriately indulgent, and best of all? The price is the same as the shampoo and conditioner alone, so the styling product is free.
For Your Most Social Friend
You know the one: she's tried every restaurant in the city and has to consult her intricate Google Calendar system before confirming plans six weeks out. A gift card to her favorite spot (or your favorite spot!) might sound trite, but think of it this way. You're not just giving her a free dinner—you're also relieving the pressure she indubitably feels every time her dining companions ask her to pick a place. What spurs decisiveness more than the promise of a paid-for meal? Pair with travel-sized versions of dry hair styling essentials so that she can touch up her tresses between the office and her dinner plans.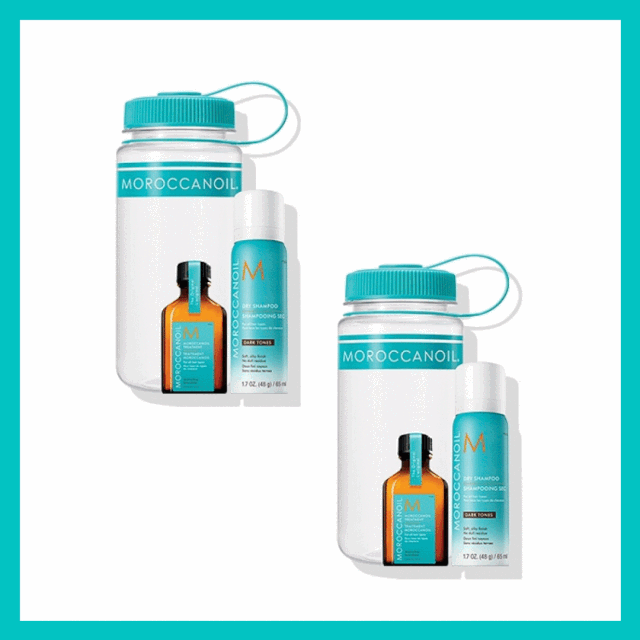 For the Gym-goer
We get it—it's daunting to join someone at SoulCycle when they're on their 256th class of the year and you haven't been since 2016. Instead, consider this. Pick up two drop-in passes for a class you're almost certain they haven't already tried. That way, you're spending time together doing something they're quite likely interested in—but the fact you're both new at, say, practicing aerial yoga puts you on more equal footing. Put the card in a Gym Refresh Kit for bonus points. (It's a reusable water bottle that contains Dry Shampoo and Moroccanoil Treatment for post-workout touch-ups. It also comes in Light, for blonde hair, and Dark, for brunettes)
For Everyone Else
Don't worry, we've got a holiday gift guide for them, too. For smaller trinkets—think stocking stuffers, coworker/neighbor gifts, and perfect picks for a girl on a budget—read our Under $25 Holiday Gift Guide (or head to the corresponding Gift Shop). Our Holiday Gift Shop is also full of hand-picked team favorites. Each and every one is something we'd be thrilled to find under the Christmas tree!