October 25, 2019
Best Fall Haircolor Ideas for 2019
What is it about fall that has everyone craving a fresh start? Maybe the crisp weather just makes us all feel invigorated after the lazy heat of summer. Maybe it's the fact that we spend the first two decades of our lives celebrating a new beginning every autumn. (Anyone else crave school supplies this time of year?) Maybe it's just us. Regardless, time and time again, we turn to our beauty routines to satisfy our fresh-start craving. Aside from the (absolutely necessary!) cool-weather skincare swaps, we love making a fall haircolor change to reflect the shifting seasons. If you're on the same page and looking for inspiration, you've come to the right place. We talked to Moroccanoil Elevated Educator Amanda Coppola to get her expert take on the best fall haircolor ideas for 2019, including what comes after the big change.
What color changes do your clients most often request for fall?
The majority of my clients request subtle changes for fall, which we can achieve by warming up their existing color with a glaze or rich, dimensional lowlights.
What's a simple, subtle change blondes can make for fall?
Adding a shadow root or color melt can give a blonde enough dimension and richness for the fall, while keeping the bulk of their hair blonde. Because blondes love to be blonde!
What about brunettes?
One of the easiest ways a brunette can deepen or spice up their color for fall is to use one of Moroccanoil's new Color Depositing Masks in Cocoa or Bordeaux. Cocoa will temporarily refresh warm brown tones in brunette hair. Bordeaux will add a deep crimson hue.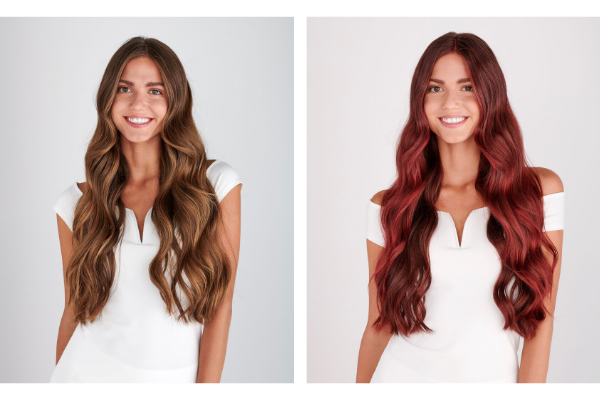 And redheads?
For a natural fall change for redheads, I like to add panels of a deeper red or warm brown. The depth or the accent color will depend upon the level of the red color.
What fashion colors do you recommend for fall?
When I think of fall fashion colors, I always gravitate towards two: violet and a red-to-yellow ombré to resemble fire.
What factors should you keep in mind when selecting a fall haircolor?
Skin tone, eye color and level of maintenance you can handle. By maintenance, I mean how often you would like to come in for retouching or if you'd like to change colors again by winter.
How can you keep your color looking fresh and healthy all season?
Color-safe shampoo and conditioner!!! For example, Moroccanoil's Color Continue Shampoo and Conditioner this will help you prolong the life of your color until your next service. Another way you can keep your color fresh and healthy is to try one of Moroccanoil's Color Depositing Masks. The three shades that are perfect to refresh your fall haircolor are Champagne, Cocoa and Bordeaux. These masks not only deposit temporary color onto the hair, they are also highly moisturizing.